Apr 2012 - Comfort Review of my Hammocks
In my advancing old age and with the steady decline in my fitness level I have a dilemma when it comes to any type of long distance hiking. My solution several years ago was to start making my own hiking gear, super-ultra-light hiking gear. What I was losing in my fitness level I thought I could make up with very light gear. This worked for a couple of years until I had several medical problems at the same time. During one of these I went from about 170 to 135 pounds. I was able to gain my weight back but was never able to get back to the same level of fitness as before.
I made more really light gear and tried to move forward.
I like to sleep in a hammock and had made a Cuben Hammock that was really light.
I also had a similar light Silk Hammock.
These were fine for a while. Then they started to cause shoulder pain. I dug out my old Army Jungle Hammock yesterday and hung it up in my backyard. A year or so ago I put my old Army Hammock on a Diet to see how much I could lighten it.
Well its spring time and my medical checkup all have occurred within the same 30 days. This only happens every couple of years. Unlike last year and earlier this year when I required surgery after each of last three Bladder exam, yesterday I passed my Bladder exam. I have one more exam the middle of next month, then I will have about 70 days before the next series of exams start.
When I got home from my exam I hung my silk "Speer" Hammock. Silk makes a marvelous spring and summer Hammock if you don't weight to much. My hanging weight is 155 pounds. Then I hung my modified Jungle Hammock and laid in it awhile. My old body really likes the way the Jungle Hammocks lets me lay more or less flat.
To reduce the weight a couple more ounces I replaced the Bamboo Spreader sticks with two pieces of 3/8" - 6061 T6 Aluminum Tubing and with wood plugs. The weight savings from the Bamboo Sticks in 3.53 ounces. While the 3.53 ounces doesn't sound like much it is a savings of 14.5%. This brings the modified weight of the Jungle Hammock down to 20.7 ounces.
If you look close in picture #1, you can see a piece of Velcro sewn along each long side of the hammock. This was for the old bug net that was made as part of the hammock top. No top so the Velcro lost its job and has been removed. Another small weight savings, this time only 0.81 of an ounce. The Hammock weight is now just below 20 ounces at 19.86 ounces without the spreader bars.
New Pictures:
1.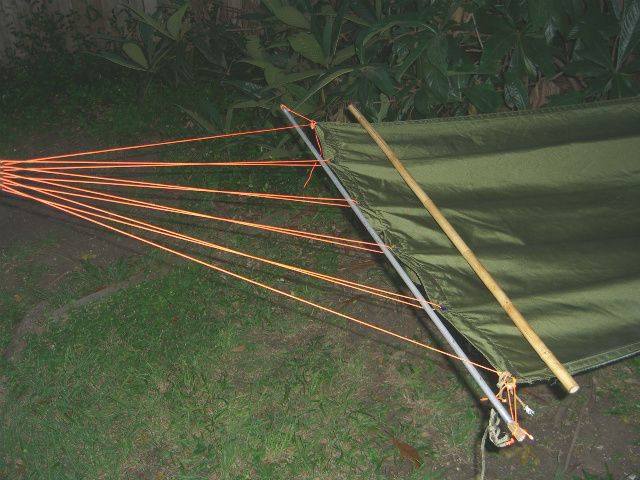 2.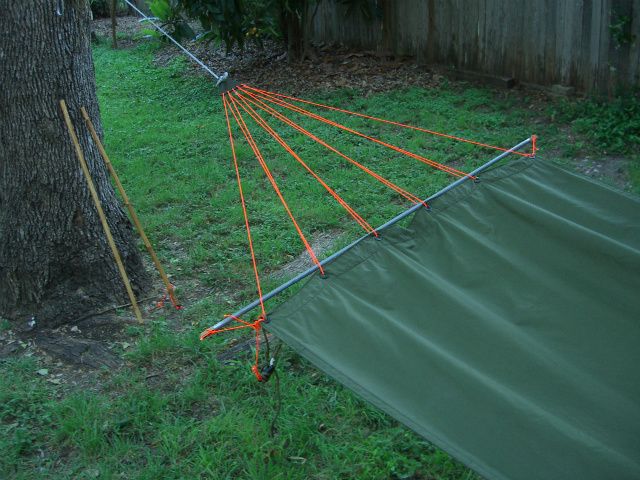 3.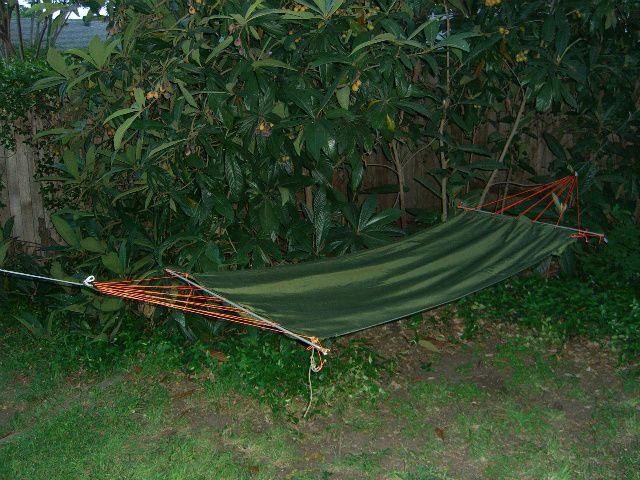 This afternoon I got my Cuben Hammock out and hung it in my backyard. As I have gotten older being squeezed in by the sides of this style of Hammock became very uncomfortable and I stopped using both the Cuben Hammock and my Silk Hammock.
I had folded up one of my GG Sleeping Pads and stuffed it into the back pocket of my new GG Murmur pack. I removed it and put it at the head end of my Cuben Hammock and got in. WOW, what a nice difference that made. The pad held the sides of the Hammock apart making it very comfortable to lay in. So much so the Cuben Hammock is now out of retirement.
4.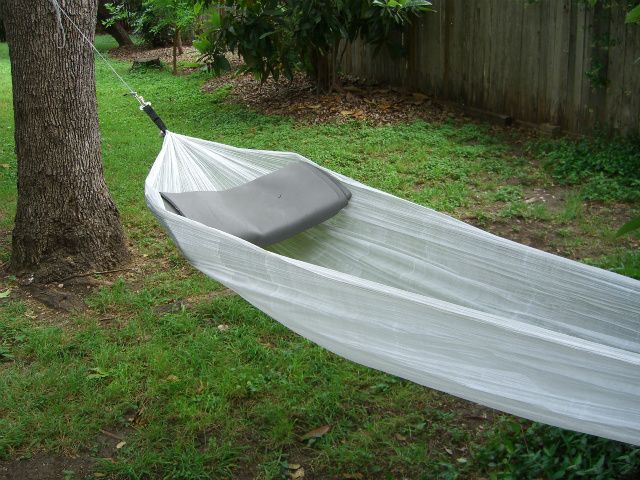 5.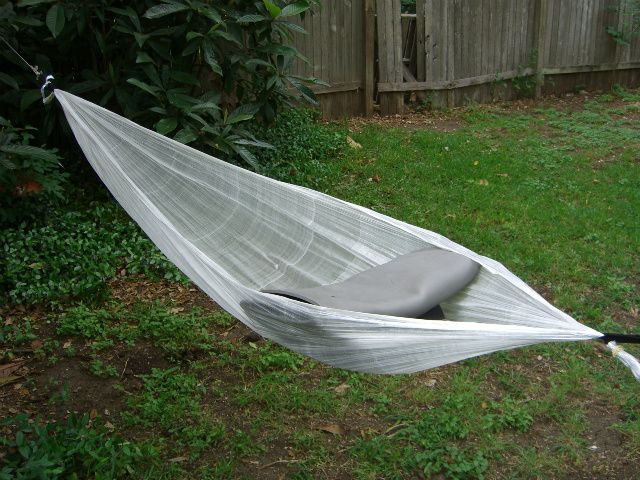 The weight of the Cuben Hammock with tree cords is 5.54 ounces. The GG Sleeping Pad weighs 4.37 ounces. The Pad is one of the GG 1/4 inch Pads that I rounded off the corners to work in my light weight Cuben / Pertex Quantum Bivy. I would be carrying the Pad anyway in the event I had to sleep in a Shelter or on the Ground. If I use the Cuben Hammock with the Sleeping Pad I save almost 14 ounces over using the Jungle Hammock.
Over the next few weeks I will try napping in the Cuben Hammock a few hours a day when I can, using the Sleeping Pad at my head, and see how that works.
If I can go with my Cuben Hammock I can start working on the other gear I need and see if I can fit it all into my new Murmur Pack.