Super Ultra Light / Super Ultra Cheap
A Really Light and a Really Cheap Gear List.
Can we find enough really cheap or almost free (as in recycled) material to build a decent set of Super Ultra Light (SUL) gear?
The complete gear list has to be under the 5 pound weight as defined by BackpackingLight.com as SUL and survive a continuous hike of at least a 165 miles on a trail system such as the Appalachian Trail. The material used for this gear needs to be readily available and not just enough to make one or two items.
I think the total weight / cost will be a good surprise to many.
1 - Backpack:
I have been playing with one type of material that turns out to be good for packs. I have even used this material for shoulder straps and hip belts.
You can see the first pack bag I made out of this material in this picture.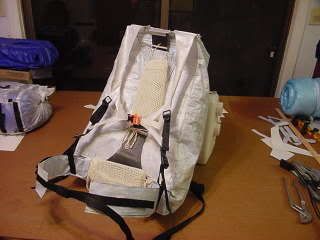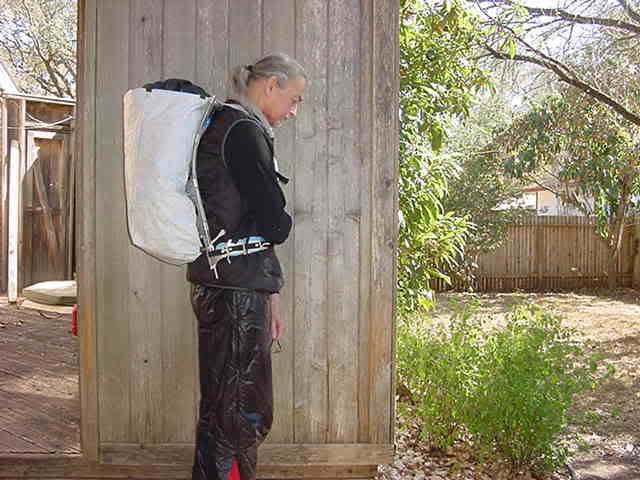 The material weighs 3.4 ounces a square yard but the total weigh for a decent size pack should be well under one pound. The material is very strong and easy to sew.
The real $$ cost of this pack ( the material is from something meant to be thrown away) might be $5.00.
With this as the first item on my Really Cheap Gear List, I am off to see what I can come up with next.
2 - Bivy:
=================================================
NOTE 1.
The Polycryo material is not working. I have tried to sew it several different ways and that did not work. I then tried a tape that works on Cuben Fiber and that also did not work. I have stopped working on the Bivy. I have a couple of ideas and will try them. If anything works I will post my results.
=================================================
NOTE 2.
I spent time trying different ways to sew the Polycryo material and think I have a way for it to work. I would warn anyone that wants to try sewing Polycryo to test several different ways till you find a way to make it work.
=================================================
Bottom Material:
Gossamer Gear sells a "Polycryo Ground Cloth.
I bought one of their (2) packs several years ago. At the time I thought this stuff might be good for other things but since I was using a lot of Cuben Fiber I never made anything with it. When I first got mine I weighed it to see what the square yard weight was. It is 0.568 ounces per sq yard.
The ground cloths cost (2) for $8.00. Now that I am looking for cheaper alternative materials I am re-looking at what I might be able to make with this material.
I have made several Bivys using Cuben Fiber as the bottom and Pertex Quantum as the top. I will try a Bivy using one of these Polycryo Ground Cloths for the Bivy Bottom.
From GG about the Polycryo Ground Cloths:
"The Polycryo ground sheet is constructed from industrial grade cross-linked polyolefin. This material is extremely tough for it's weight, with amazing puncture resistance. It has a tensile strength of 15,400 p.s.i. (1,083 kg./sq. cm.) per ASTM D-883. It is waterproof, but very slightly breathable (1.09 gms of water vapor/100 sq.in./24 hours). At 0.55 oz./sq.yd. (16 g.), it's HALF THE WEIGHT of our Spinnsheet™ ground cloths. You will have to replace this more often than tougher alternatives, but it's very economical. These single ground cloths are shipped as a 2-pack so you have an extra. Our medium size is 40" (102 cm.) wide.'
Ground Cloth Link
Top Material:
Frogg Toggs make a poncho out of a very nice material that is said to be 100% waterproof and breathable. It would seem that this material would make a good top material for the Bivy. I need to find out the size of this item but just in looking at it I am sure it is big enough.
Frogg Toggs Poncho
I believe that Frogg Toggs is made from something like 3M Propore. I have a sample of the 3M Propore and it weighs 2.37 ounces a squard yard.
A Bivy made from the GG ground Cloth and the material from a Frogg Toggs Poncho should weigh about 6 ounces.
Cost: I have found the Frogg Toggs Poncho list on two different web sites. It is selling for $11.50 at one place and seems to be on close out at $8.95 on another web site. I will call both on Monday and confirm prices. Using what seems to be the MSRP of $11.50 for the Poncho and $4.00 for one GG Ground Cloth, the total Bivy cost would be a bit under $16 plus shipping, tax etc.
3 - Shelter - Tarp
My first thought is to make a tarp out of 3 GG Ground Cloths sewn, glued or taped together.
The Tarp would be about 10" by 12' and the tarp material weight would a little less than 2 ounces. Add in some weight for the tie out line ( 1.42 oz) 6 stakes made out of - you pick it ( 1.23 oz) and a few secret things and you have a big tarp that weighs under 5 ounces.
If you have an idea you would like to share leave a me comment.
More to follow.