New External Frame w / Pack Bag - 1 Sep 2008
External Fame and Cuben Pack Bag - New as of 1 Sept 2008
Ever so often when I think a might get out for a hike I gather all my previous MYOG- External Frames to see if I want to use one of them or make a new one.
I have made a bunch of frames over the last few years but have never really got one like I want it.
I got the new Shirt and Pants BPL.com just started selling and I have been wearing them in our South Texas heat. The temperatures have been from 96 to about 102 - direct sun - for most of my test hikes with them. I have decided that when it is that hot the only time any clothes are cool is when you jump into a cool body of water wearing them.
Then if you put the typical backpack on you find out real fast that hot just got hotter. That is unless you have a pack with a window between your back and the pack bag.
That is the type of External Frame, Pack Bag combination I have been working toward for the last 4 years or so.
I have made frames that do this really well but they have all been heavier than I want one to be.
This new frame is an improvement and is one of my lightest frames to give me a decent size "window" so far.
The shoulder straps are from an older test frame and will be much lighter when I make a new set to go with this frame.
The Pack Bag is the "Cuben - Snowshoe Bag" I made last year. It weighs 2.5 ounces and is a good size for the max weight I might want to carry. Here is a link to that thread:
Cuben Pack Bag - 2.54 ounces
New External Frame w / Pack Bag
1. The white perforated things are what I am calling my "Air Pillows".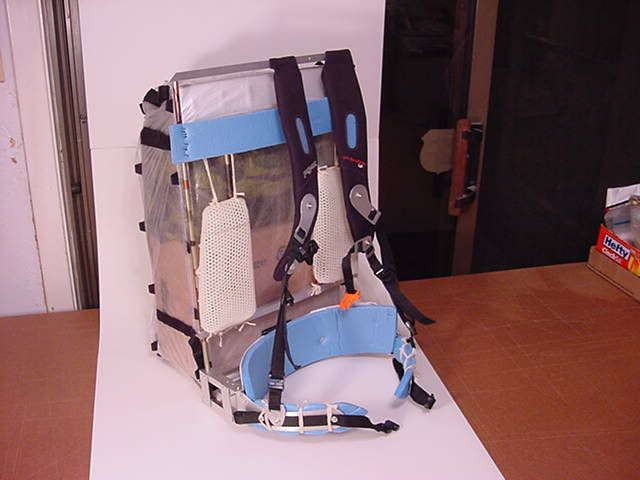 2.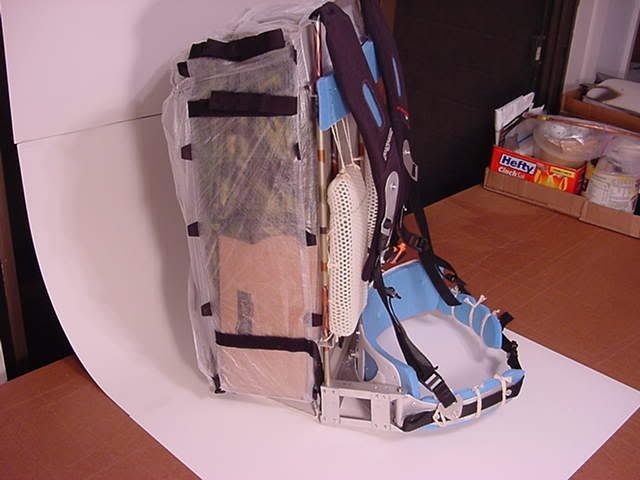 3. "Wing" things - idea from an old Jansport Pack I have. My "Wing" things are lighter than the ones that came on the Jansport pack.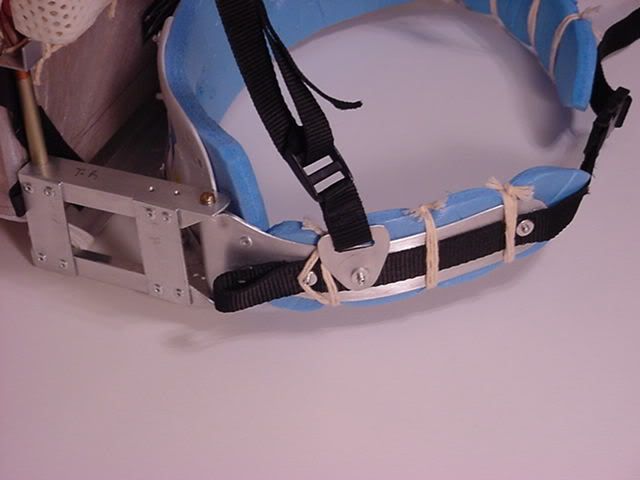 I have been carrying this Frame setup for the last 2 days. I carried it 3 times for 2 miles each time today. The first time today without the air pillows on the frame. Hot.
Then I put the air pillows on and went back for another 2 miles. What I nice difference. With only a slight breeze I was able to feel the breeze blowing between the frame and my pack bag.