Pertex Quantum / Cuben Fiber Bivy - New Black Bivy
Pertex Quantum / Cuben Fiber Bivy - New Black Bivy
I needed to make another Pertex Quantum / Cuben Fiber Bivy. I discovered that when you go several years between making the same thing you can forget a lot of how you did it.
I made my first Pertex Quantum / Cuben Fiber Bivy back in Sept. 2006. When I went to look for my old pattern I discovered I had recycled it into something else. OK, just make a new one. After cutting the material I realized that I could not remember how I had made the hood and how I had closed off the foot end. It took three tries practicing on some of my $1 a yard WalMart stuff to figured it out.
The new Bivy has a few extra features on it such as loops at each corner and a loop in the center of the hood.
The Black Pertex Quantum and Cuben Fiber Bivy weighs 3.128 ounces. The loops count for 0.176 of an ounce and put the Bivy just over the 3 ounce mark.
The first Bivy I make weighs 2.82 ounces but that is without the extra 5 loops like I put on the Black Bivy.
1. Cut the Pertex Quantum material. I use a hot knife to cut the material.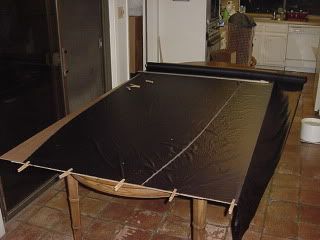 2. Trying to remember how I made the hood.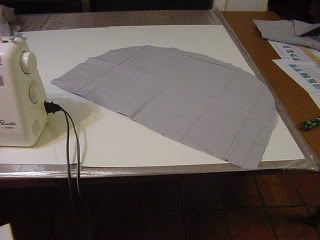 3. Getting ready to cut the Cuben fiber. I am using some of the 0.33 ounce per square yard Cuben Fiber. I use a #11 blade in an X-acto knife to cut my Cuben Fiber.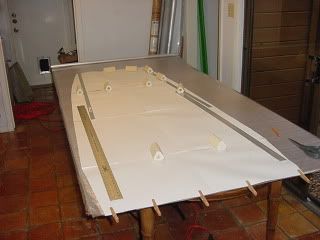 4. Everything cut and ready to start sewing. I sew all my Cuben Fiber.
5. Black Bivy finished. You can see three of the loops I put on this Bivy. The other two loops are at the foot end. Total weight is 3.128 ounces or 88.7 grams.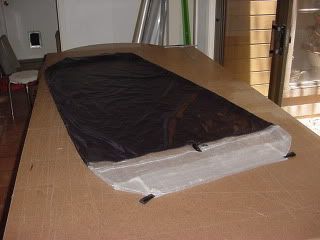 6. My two Pertex Quantum and Cuben Bivys.