10-20 Degree Cuben/XP Sleeping Bag - 15.6 ounces - Done
As a result of several good medical checkups this month I have a three month window between now and my next set of follow-up exams the first of June. For the first time in several years I am going to have some time to go for one or two hikes of 2 or 3 weeks duration maybe more but I don't want to be overly optimistic at this time. My first hike goal will be to follow the Appalachian Trail (AT) north from Springer Mtn to Fontana Dam or about 164. This hike will take as long as it takes and will let me know just what kind of shape I am in and how my gear works. Then according to a lot of factors such as another group of good checkups in June I will try for longer hikes and may see how much of the AT I can hike this year.
I want to try and go sooner rather than later. Since it is still winter along the Southern portion of the Appalachian Trail I have decided to make a warmer / lighter Cuben Fiber Sleeping Bag for the hike.
When Cuben announced that color was available I ordered some Blue in the 0.33 ounce per sq yard product. I was disappointed in the lack of color and it sat in my closet. I will use some of the 0.33 ounce Blue Cuben I have for a new sleeping bag.
For insulation I will use 5 ounce per sq yard Climashield XP Insulation. When I bought the 5 ounce XP I weighed the whole piece (3 yards) and the average weight was around 6.5 ounces per sq yard. I will weigh the amount I use and then calculate the weight to give me a more accurate CLO valve.
The Sleeping Bag will be a "slide in" style and have a non-insulated Cuben bottom to save weight. I have made several Sleeping Bags with this design and have made a few modifications to my basic Sleeping Bag Pattern for this bag.
Current Material Weight:
Cuben Fiber at 0.33 ounces per sq yard - required 2.28 sq yards for the outer shell and the same for the inter shell. Cuben Fiber non-insulated bottom - 0.4 09 sq yards.
Total weight of Cuben Fiber (est.) 1.99 ounces.
I have cut and weighed the XP Insulation. Taking several samples from the 3 yards the average weight comes out to 6.06 ounces per sq yard - required 2.28 sq yards. Actual weight of cut to shape XP is 13.82 ounces. Clo value - 6.06 x 0.82 is equal to 4.969 or rounded up to a Clo of 5.
Total material weight at this point is 15.81 ounces. The weight at this point makes me think I can have a very warm Cuben Sleeping Bag at less than 16 ounces or one pound. With a Clo of 5, I will let you all decide for yourself what temperature that will be good for. I have my own idea and I expect this bag will be fine for my hike. Being old but not being stupid I will have something extra in case the weather gets really cold.
Source of Materials:
I get asked a lot where I get the material I use. I buy most of it from one of three places:
Quest Outfitters - Cuben Fiber by the yard, other material and fittings.
Thru-Hiker - Climashield Insulation, other material and fittings.
Outdoor Wilderness Fabrics - Climashield Insulation, other material and fittings.
I also buy Cuben Fiber direct from Cuben Corp but they require a purchase of 9 yards or more.
1.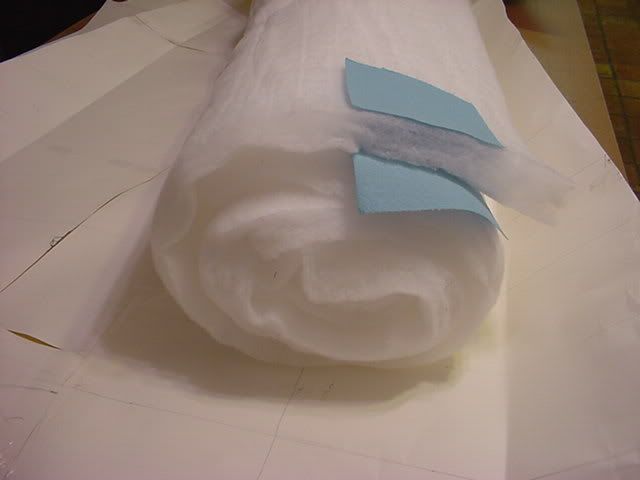 2.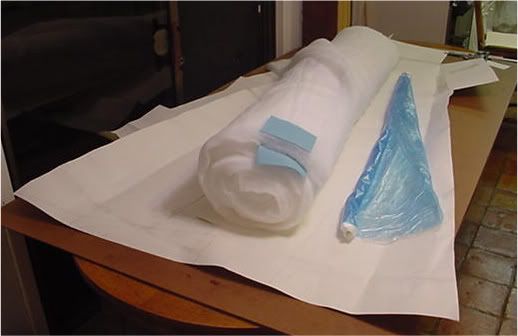 3.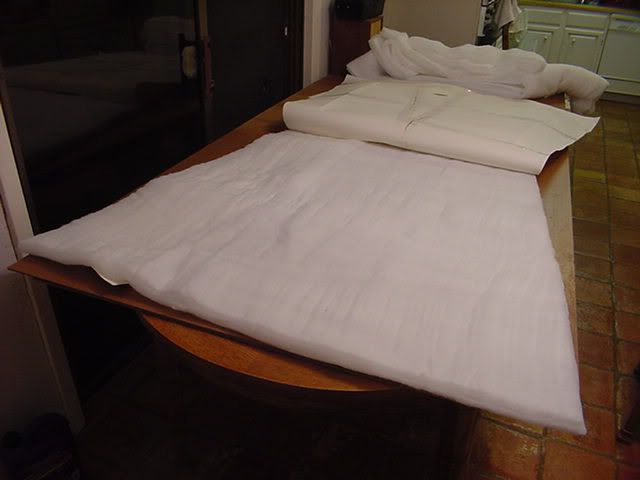 4. Weight of XP is 13.82 ounces.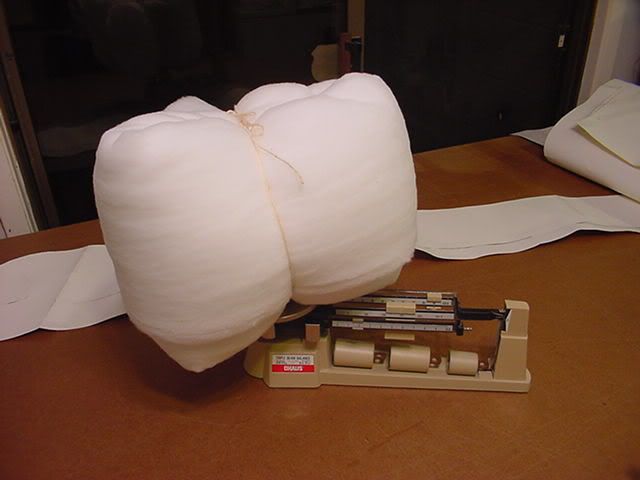 ================
2 March 2009
I was a little busy over the weekend and didn't get anything done on my new Sleeping Bag. This evening I cut my first of two pieces of Cuben for the shell. Each piece weighs 23.7 grams or 0.84 of an ounce. If the Blue Cuben is 0.33 ounce per sq yard this would be 2.55 sq yards for each piece and up from my estimate of 2.28 sq yards that I used as a planning figure. I have both pieces of Cuben cut and ready to sew. I will cut the Cuben for the non-insulated bottom part after I sew the Cuben and XP together.
The extra material weight for both the Cuben and XP is from making the foot box area a little larger than the original pattern. This will give me an insulated foot box about 20 inches deep. If this Sleeping Bag was being made for warmer temperatures then I expect, I would not have added the insulated foot box.
5.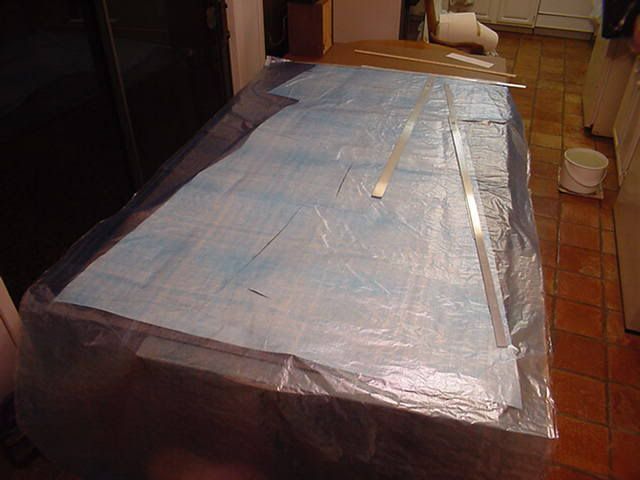 6.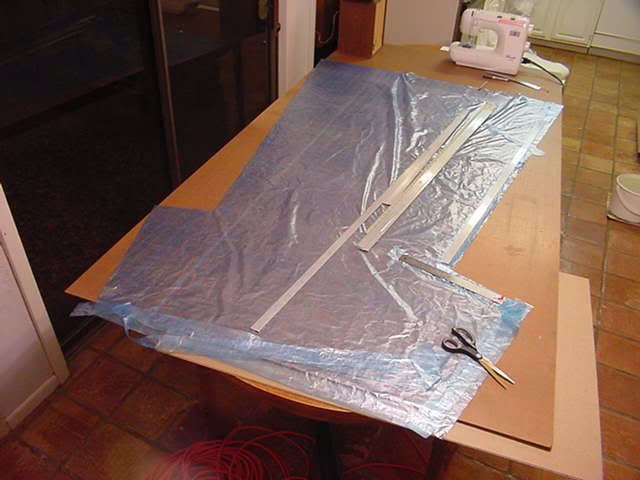 7.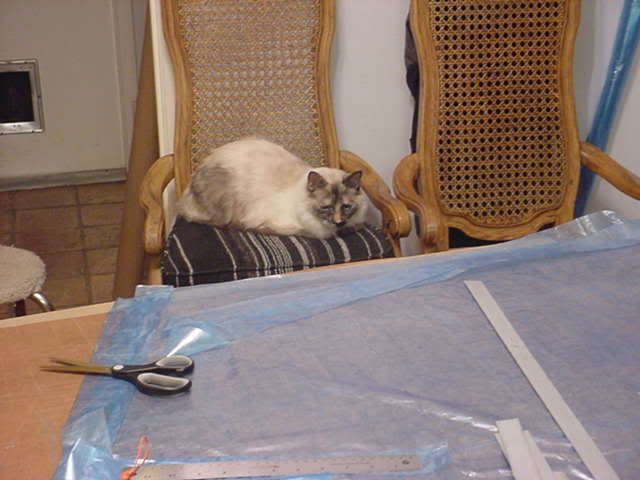 ====
Moving right along. Getting ready to sew the Cuben for the bottom.
The numbers still look like the new Sleeping Bag will be under 16 ounces.
8.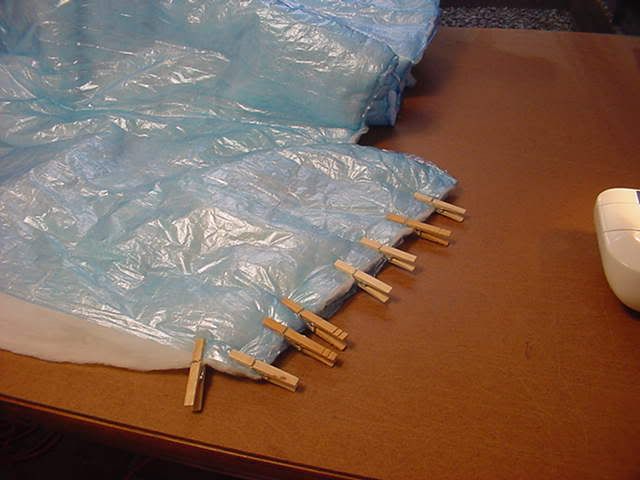 9.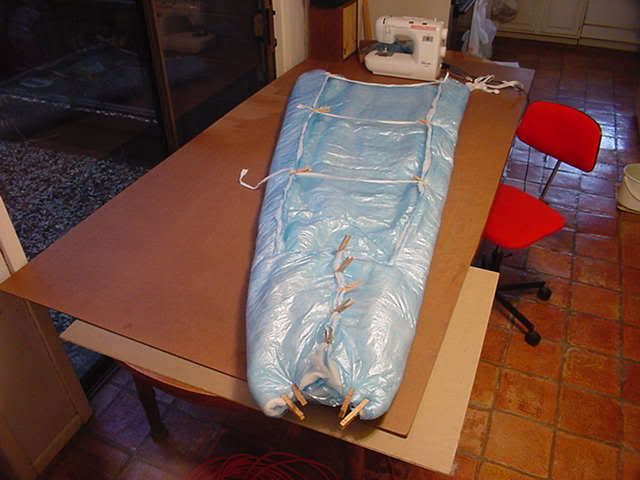 10.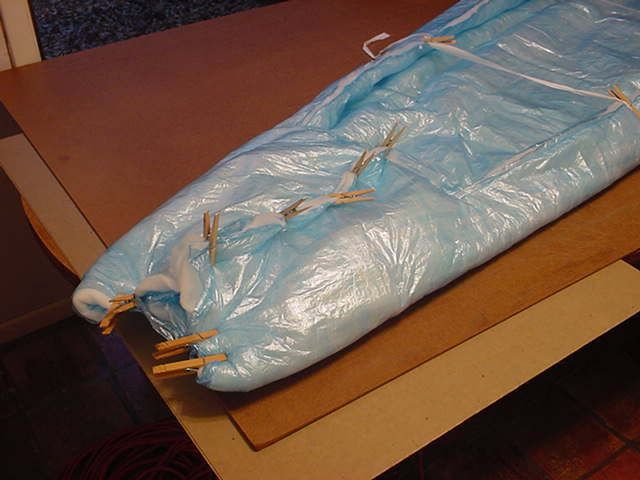 11. Foot Box - Inside out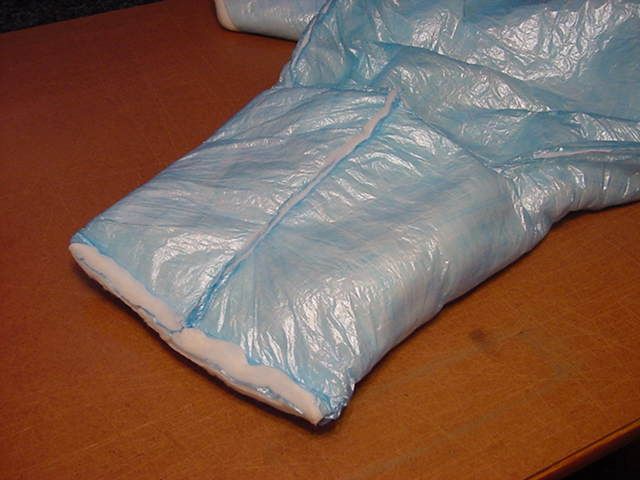 4 March 2009
The Cuben Fiber / Climashield XP - Sleeping Bag is finished except for the draw cord at the opening. The opening is 33" across and the foot box width is 16". I will finish the draw cord for the opening later today.
12.
The current weight is 15.45 ounces.
I believe this is a lot of Sleeping Bag and a really good Clo rating (5) for less than 16 ounces or One Pound. The total weight of the XP Insulation is 13.7 ounces. The weight of the Cuben Fiber Shell material is 1.75 ounces.
I got into the Bag and got warm really fast. I fit the Bag fine but don't have much extra space. This is how I planned the size, big enough but no wasted space. I do have room in the foot box area for my shoes so I don't have to worry about them freezing over night if it is that cold.
==
My new Blue Cuben Fiber / Climashield XP Sleeping Bag is finished.
Total weight is 15.55 ounces.
13.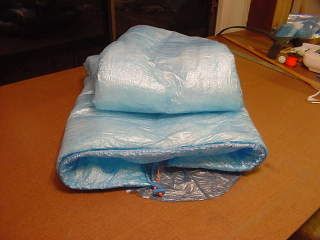 14.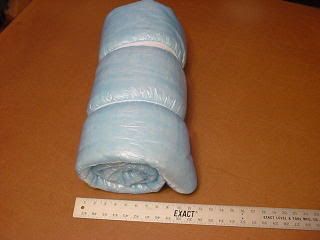 ==
I have been in and out of the new Sleeping Bag a lot over the last few days and have even tried it out inside my 4 ounce Bivy, it is way to warm to stay in it for more than about 10 minutes. We don't get much cold weather here in San Antonio, Texas and It is going to go over 80 degrees this afternoon. Even over night I am sure I would get to hot to stay in it very long.
I don't want someone to find me in the morning, drown. That is a joke.
Date for my hike still not for sure. I got a very interesting item in the mail yesterday. I have been working on something for it today. I will post a few pictures of where I am with that later today.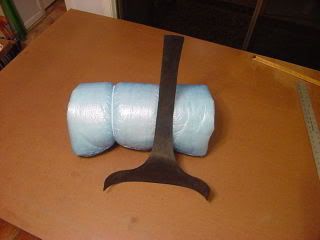 I will see if I can get a picture of me in the bag. My camera has a timer but I think it is only a 10 second delay. I don't know if I can get in the bag that quick. I did a few practice runs and then took these pictures. The really funny ones didn't make the cut. This is the best I could do using my timer:
1. Slow.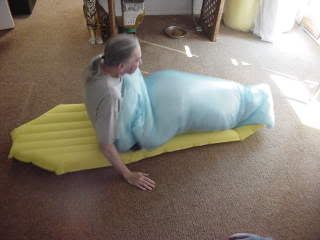 2. Better by a little.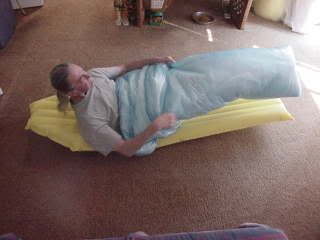 3. Better.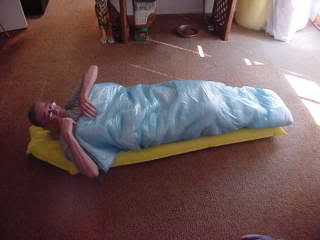 4. Better.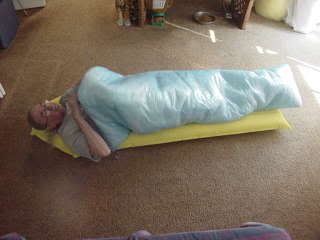 5. About the best it is going to get in 10 seconds.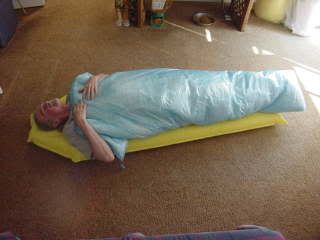 The Sleeping Bag will come up to my nose when I have time to get in it slowly. If I lay on my side I can hid my head inside it.
==
By using this type of insulation it only needs to be sewn along the edges. If the item being made was really wide then I might have to stabilize the insulation. The Sleeping Bag did not require that so working with this type of insulation makes the work go sort of quick.
I have used a vapor barrier (VB) liner or VB clothes inside my cold weather Sleeping Bags for years. When I started looking for ways to really reduce the weight of my gear I made a lot of things out of Cuben Fiber. It was only a matter of time before I made my first Cuben Sleeping Bag. I didn't like the insulation I used but the Cuben worked fine. I save a lot of weight on shell material and now could leave the VB liner at home and the VB clothes were now an option.
The way the Cuben Sleeping Bag is made no body moisture can get to the insulation. The Cuben Fiber is completely waterproof. On the first Cuben Bag I built in a small vent system to help squeeze out the air or let air into the insulation. I improved upon that idea with this bag so if it is ever necessary to air out or dry out the insulation I can do that very easy.