Cuben Footies-VBL's-0.22oz a pair
Cuben Footies-VBL's-0.22oz a pair
Made - 10/29/2005
I have been working on a pattern for a Foot VBL made out of Cuben Fiber. I first made several muslin patterns to get the right size for my foot. Tonight I finished my first pair out of Cuben Fiber. I expect to try a couple more pattern ideas but this pair will give me something to wear and see what happens.
The pair weighs 0.22oz and are 10" tall. I wear a size 11 shoe.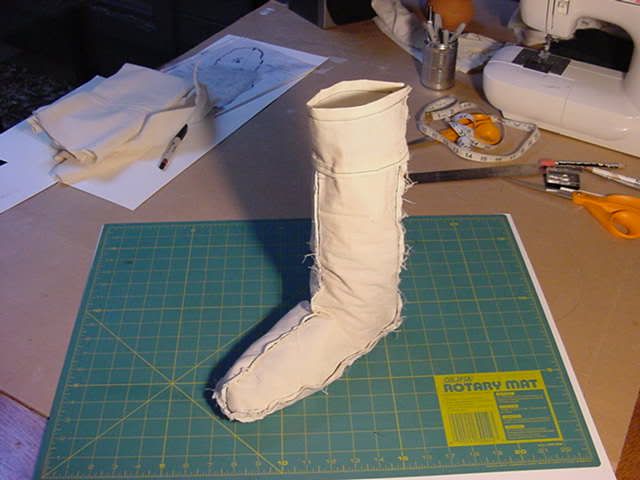 =======
The theory is that the VBL goes next to the skin with the sock on top then my shoe. In this case my trail runners. When I made a sleeping bag VBL out of really light spinnaker ripstop I sewed in a light silk inner liner for your reason.
I do however, have room for a thin sock in my Cuben Footie's. I have always used a Rocky Gore-Tex bootie in my trail runner when it rains or when I expect heavy dew or a lot of creek crossing where I will get my shoes wet. I wear my socks then the "Rocky's". I also carry a little foot powder and that helps some to a lot.
I have a prototype for a pair of insulated full shoe gaiters to be used with my trail runners. They will attach to the full top of the trail runner but leave the bottom of the trail runner uncovered. They also are 10" high. My hope is to extend the use of my trail runners without using something like an overboot safely into the 0 to 20 degree range.
The combination of the foot VBL's and the insulated gaiters will give me something to test with.
======
Cuben material is normally sold in a "panel" of just over 9 yards and is about the only way they will sell it. If they happen to have a smaller piece they will sell that but they will not cut a "panel" for a smaller amount. They are getting a lot of phone calls from us folks in the backpacking world about their material and want to make it easier for us to buy it. We are a new market for them and I expect they will have a few growing pains till they/we adjust to our needs/wants. They have been really nice to me and are commited to serving our material needs.