Testing the RBH Designs VaprThrm NTS Shirt and VaprThrm Pants
Adding the RBH Designs VaprThrm NTS Shirt and VaprThrm Pants to my gear list.
I first learned about RBH Designs when BMW offered for sale the "FeatherLite Vapor Mitts". RBH Designs made the Mitts for BMW. I looked at their web site and ordered a pair of their VaprThrm Insulated Socks. At the time they were working out ideas for a shirt and pants. RBH VB items came back up when Ryan J was planning the SUL Winter Challenge. The weather wasn't cold enough and Ryan's hike was cut short. I sort of forgot about the Shirt and Pants till I read that Andrew had one of their shirts. I called RBH and ordered a NTS Shirt with the optional sleeve zippers and a pair of their NTS Pants. I can wear a medium shirt if I can get them made with a long arm sleeve length and sent my sleeve length to them. I also sent them a foot pattern for another pair of their VaprThrm Insulated Socks.
Last Saturday I received my new VaprThrm NTS Shirt, VaprThrm Pants and a new pair of their VaprThrm Insulated Socks. Everything fit great. Over the last couple of days I have had a chance to wear the VB shirt and pants.
Everything looks very well made. If someone had been watching me as I was examining the shirt and pants they would have had a good laugh. I was looking at how everything was sewn together. The material also is interesting.
Weight of things:
Socks - 4.11 ounces - size 9.5
Note: The following paragraph about the shirt was edited on 8 February 2009.
Shirt - 13.8 ounces - size M - I have modified the shirt with more zippers to give me more venting options. The main zipper is now a YKK 2-way separating zipper. I have added two more chest or pocket zippers and have left the sleeve zipper stock. Those gives me great venting options and allows me to wear these garments to a higher temperature. The shirt can vent with the front 2-way separating zipper, the four pocket zippers and the optional sleeve zippers. The pockets are made out of some type of mesh. You can see the large mesh panel on one of the pictures of the inside of the shirt.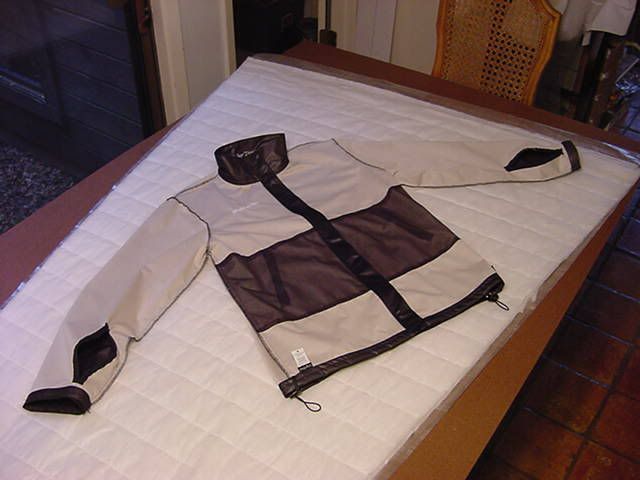 This picture shows what the inside material really looks like. The flash on my camera washed out the color on the other pictures.
Pants - 12.9 ounces - size M - The pants have been modifided by me to add a 32" YKK 2-way seperating zipper to the outside of both pant legs.
NOTE: On 9 February, 2009 I had the inseam reduced to get rid of some of the bulk in the pant legs. This reduced the weight of the pants to 12.9 ounces.
None of that weight matters as long as they are on my
back. While hiking I will wear them day and night till I find the point where the temperature / heat / sweat is to much to control by what I wear or by venting.
First test:
Saturday 20 january 2007 - 40 degrees "F" with a light rain. I was wearing nothing under the NTS Shirt and only a pair of briefs under the NTS Pants. At first I was just a little cool. That is really how I like it. At about the 30 minute mark I was just right. No venting yet. I stayed at the "just right" feeling till I got back home. When I took off the shirt and pants I had a slight damp feeling across the back of my shoulders but no moisture.
Second Test:
21 January - Sunday Night.
I wore the shirt (nothing under it again) and pants (only briefs again) late this afternoon. It was 56 out. I started with all vent zips open and the shirt front main zip about 1/3 of the way down. By the time I got about half way down the hill on my street I had pulled the zips on the pants closed about 75% of the way. Zipped the jacket up till it was about 85% closed. Arm zips were left opened and sleeve opening was left open all the way. I left everything like that till I was almost
home when I unzipped the jacket a little along with the leg zips. I wasn't warm but was just trying to cool a little before I got home. Again the only slightly damp area was across my shoulders. I have a really light weight sleeveless running top made out of a very breathable material. I will wear it under the shirt tomorrow and see how that works. It should let me
unzip the shirt more or maybe even all the way without a chill on my bare chest. I will carry my #2 wool zip hoody and #2 wool bottoms if it gets to cold for just the NTS Shirt and Pants.
The initial results of wearing the RBH VB shirt and pants are one of the big reasons I am re-thinking my winter gear list.
I believe the VB NTS Shirt and NTS Pants can be worn to a much higher temperature than most have thought in the past. My goal is to find out if this is possible and what MY high temperature range will be. I believe the VB idea can be used to a much higher temperature than most have thought in the past. It may not be for everyone but will be for those that are really in-tune with what their body is doing.