BMW Titanium Cook Pot - New Lid
BMW Ti Pot Lid Fix
When I bought my FireLite SUL-500 Titanium Cookpot (62 grams with the lid)
(http://www.backpackinglight.com/cgi-bin/backpackinglight/firelite-sul-550-titanium-cookpot.html)
I got the one without the handles. I wanted the lightest option I could get. The first thing I did was put a "Bail" on the pot to lift it with.
I noticed the Lid had a minor "fit" problem. Mine wasn't to bad and the lid was heavy (13.3 grams). I decided I could make a lighter lid so I never worried about the stock lid.
With all the moaning and groaning the last few days about the lid fit I decided that since it was on my Hike "To Do List" I would work on it this morning.
For materials I would use a piece of Aluminum Oven Liner for one lid and I discovered that the top and bottom of a NIDO Dry Milk container had a flange on them that fit over the BMW Ti Pot. The fit is about as perfect as you could want. You do have to cut away the cardboard sides of the container from the metal parts.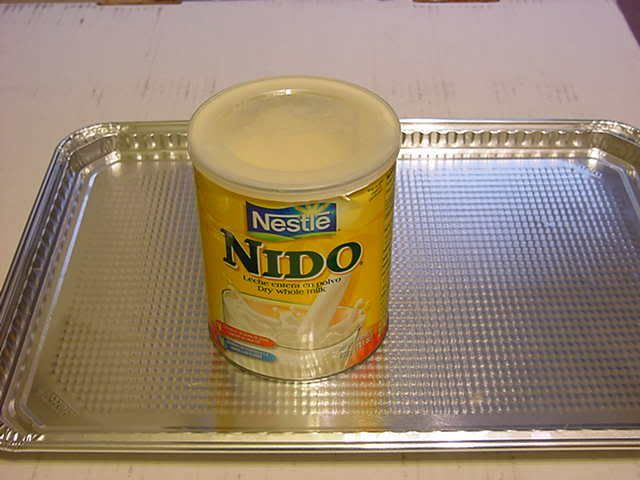 Easy Fix #1:
I took an aluminum oven liner and cut a disk a little bigger than the pot opening. Then I just bent it around the pot and made a simple lid. I left some extra at one spot to use as a way to lift it from the pot. The lid works fine and weighs 2.9 grams.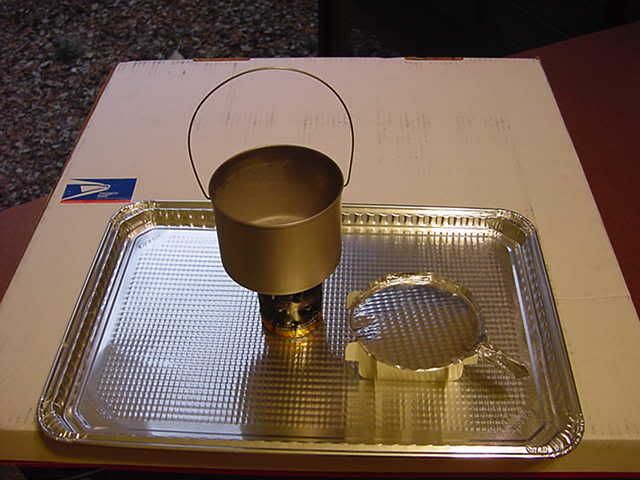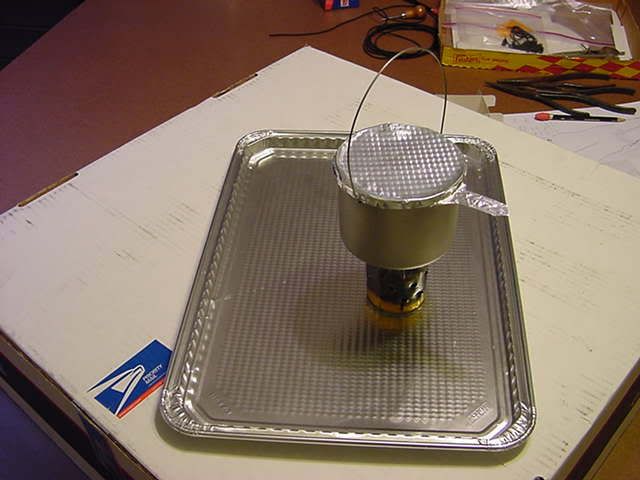 Easy Fix #2:
I have not finished this version yet as I need to work on something this afternoon that is more important. You can see that the center part is open. I would cut a disk out of thin Aluminum and attach it to the disk. Some might say why not use some thin Titanium. I have some thin Aluminum that weighs almost the same as the Ti and it is cheaper and a lot easier to work with. I don't need the extra strength of Ti so I will save it. You can see in one picture that the fit is so good that I can hold the Ti Pot upside down and the lid does not fall off. The ring alone weighs 9.5 grams.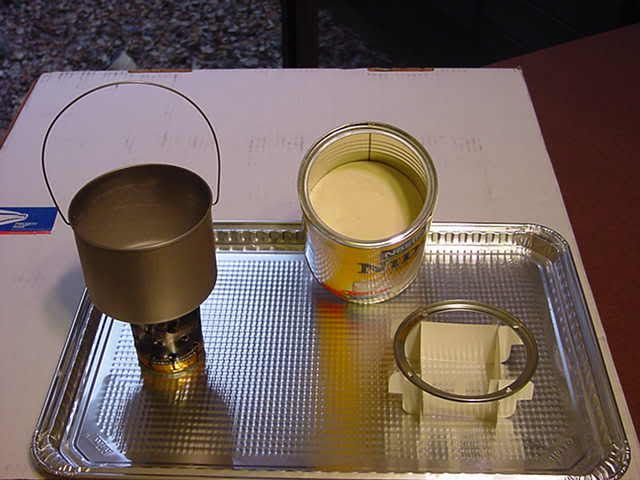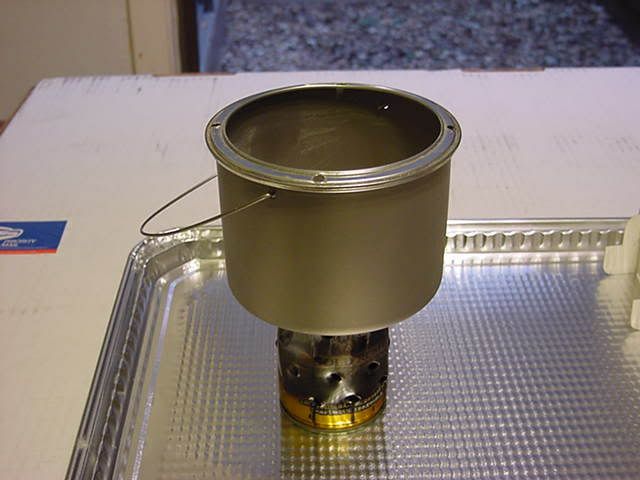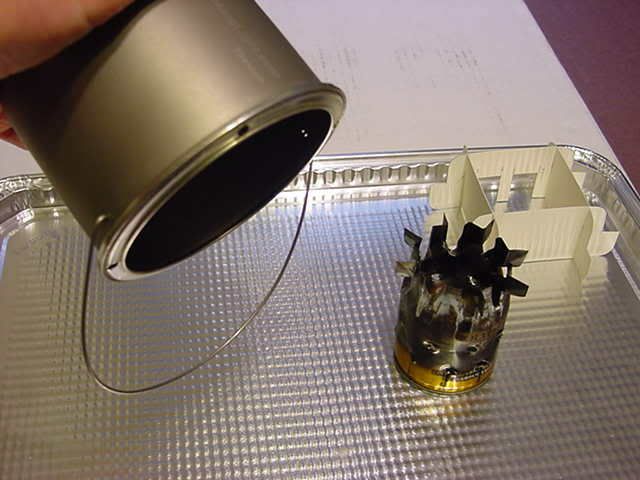 East Fit #3:
As with #2 I have not finished this lid. It could be used as you see it if you didn't care if you had a lift ring. There are a lot of different ways a lifting device could be made and if you make a lid like this I am sure you can come up with something simple and light. This lid also fits well enough to turn upside down and the lid will not fall off. The lid as you see it weighs 15.3 grams. This is 2 grams heavier than the stock lid.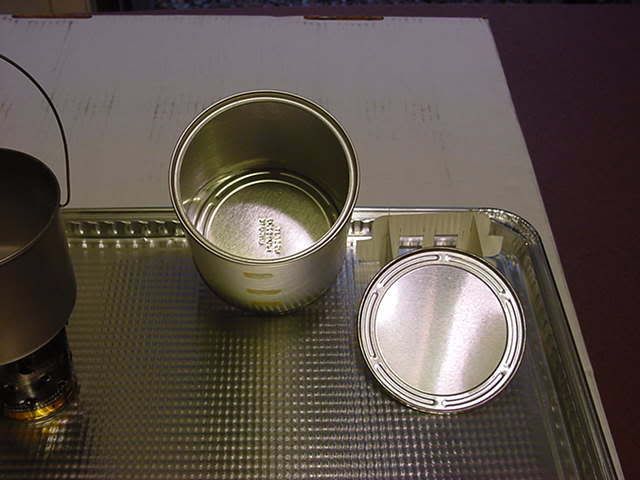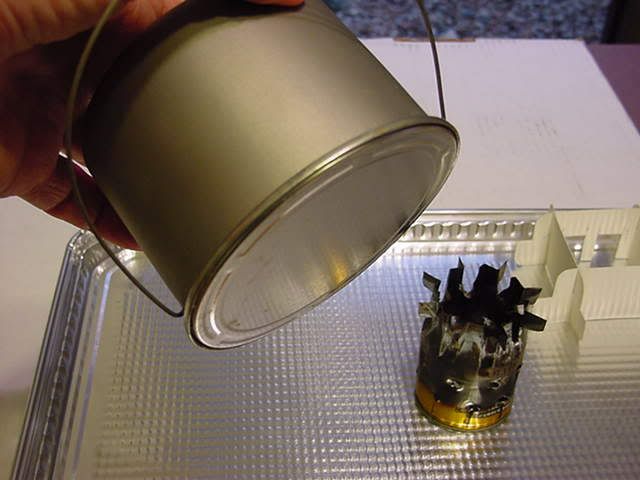 For a long hike I think I would go for lid #2 as it would be much more durable and also really keep the pot closed when packed.