SUL Floating Bivy / Hammock - May 20006
SUL Floating Bivy / Hammock - May 20006
Summer Version - Prototype 1
Part 1:
The prototype for my new "Floating Bivy" Hammock/Sleep System is coming along. I am going to make both a Summer Version and a Winter Version. I am working on the Summer Version first.
I finally got the bottom part of my prototype done. I have it tied as low as I could just in case something failed and I took a quick trip to the ground. Nothing has, yet.
I am using the cord and some fittings from an old hammock until I make some new ones or find something that will work. All the new cord will be very light weigh per foot spectra cord of some kind. I have several different cords to work with and I will connect this cord to tree huggers to protect the tree bark.
The bottom of the hammock is more or less 7' long by 32" wide. This is quite comfortable as the spreader bars keep the hammock almost flat when I am in it (see pictures). I also can lay on my side when I want to sleep that way. The Cuben fiber necessary for the bottom part of the hammock will weigh less than 1 ounce. The prototype is made out of some $1 a yard stuff from Wal Mart.
The spreader bars are from my Home-Made Trekking poles so there is no added weight to my "skin-out" hike weight.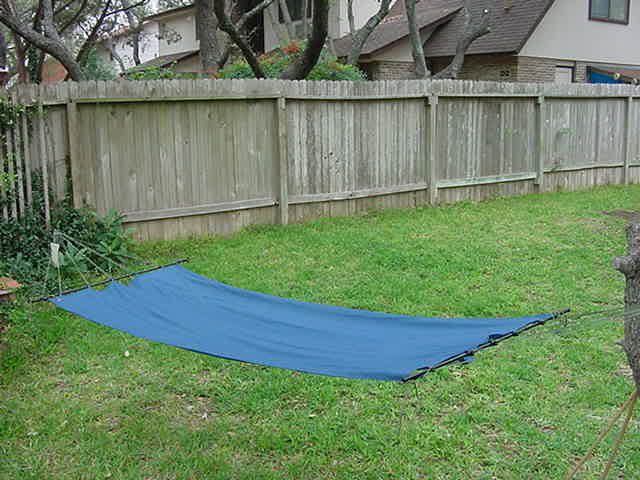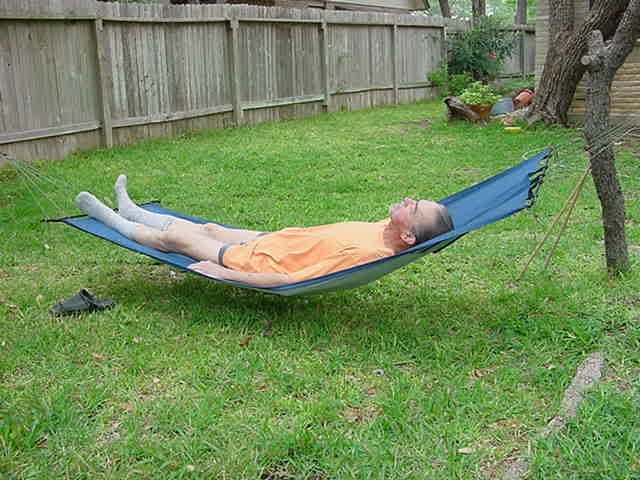 I have used some "Sail Makers" engineering in how the hammock reinforcement is designed so I can use Cuben Fiber. Testing will confirm or reject my engineering theory.
The Floating Bivy should be just as home on the ground as it will be hanging from a tree. A light weigh, durable, footprint will be used when in the ground mode. It will also have a very light weight and removable "Storm Cap" to add more weather protection on the ends when used in the hanging mode. The top part will connect to my Tarp when used.
I see this set-up working well in a 4-season role except possibly during a 100 year snow storm. For that I would bail out to a shelter, make a snow cave or something. If that ever happens I would use the Floating Bivy on the ground in some manner and ride out the storm.
As a side note on hikes longer than a few days I carry a small weather radio.