Back to the Future - Super Ultra Light - part 2
This is the gear list I used on my Sub 2-lb hike on a short section of the Georgia Appalachian Trail (AT). There were two hikes on that trip. The first was a hike of what is called the Georgia Loop. This is a loop hike formed by a section of the Appalachian Trail (AT) the Benton Mackaye Trail (BMT) and the Duncan Ridge Trail (DRT). The trail forms a loop that goes from Springer Mtn on the BMT to the start of the DRT / BMT to the cut off from the BMT/ DRT on to where the DRT ends at the AT near Blood Mtn and then follows the AT back to Springer Mtn. There are several roads in the area so you can start the GA Loop Hike at many places. The hike can be anywhere from 65 to 80 miles long according to where you start / stop. We started the GA Loop at Woody Gap since the Hiker Hostel was only a few miles away. We hike towards Springer Mtn and back around to Woody Gap. The Georgia Loop is said to be the hardest hike in the state.
The Georgia LoopTrail hike was a test of several of my MYOG items some of which were then used for the Sub 2-pound hike.
The Sub 2 pound gear list will be the "starting point" gear list for a long AT hike.
=============================================================================
Sub 2-lb October Hike - 2006
This is my final hike ready Sub 2 - lb Gear List with few pictures of the gear spread out. The gear is laying on my GG Ground Sheet.
==
Final - Sub 2-lb Gear List - 13 Oct 2006
Weather range for the next 4 days. Lows down to 35, highs up to 65. Windy, clear and sunny.
1- PACK - SHELTER - SLEEPING: As of - 13 Oct 2006
Backpack Cuben Pack - Modified w/Sternum Strap 1.97-p
Pack liner - GG - Pack liner - M 1.35-p
Sleeping pad Balloon Bed (12 to 19 balloons & Kilt Shell) 1.96-p
Shelter Poncho/Tarp 2.80-p
Shelter support (Using trekking poles) 0.0
Stakes (6) for Poncho/Tarp 1.23-p
Guylines for Poncho/Tarp 1.42-p
Sleeping bag Quilt/Tunic - counted as clothing 0.0
Bivy Sack 3.00-p
Ground Sheet GG Polycryo Cloth (m) 1.65-p
Total weight in pack - 15.39 oz
2 - CLOTHING: As of 13 Oct 2006
Kilt Home-Made Kilt (counted w/balloon bed)-p
Base layer top Patagonia #2 Wool Crew 6.7-w
Base layer bottom Pat. #2 Wool Bottoms 6.34-w
Insulating top PG-D Tunic/Quilt 7.82-w
Raingear (hard shell) top Poncho/Tarp-p
Windgear Use Poncho-p
Warm gloves Possumdown 1.37-p
Socks-wear Wright-Sock 1/4 2.77-w
Spare socks Wright-Sock 1/4 1.68-p
Insulated Toe Cozy's 0.67-p (see picture below)
Trail Runners TNF Ultra 102's 28.34-w
Tilley LT6 Hat 3.25-w
Total weight in pack - 3.72 oz
Total worn - 55.22 oz
3 - COOKING - WATER: As of 13 Oct 2006
Stove N/A 0.0
Windscreen N/A 0.0
Fuel bottle N/A 0.0
Matches/lighter Strike anywhere matches 0.2-p
Cook pot N/A 0.0
Cook pot lid N A 0.0
Drinking mug 12 oz Soda Can 0.42-p
Utensils Home-Made Ti Spoon 0.23-p
Food storage bag Zip Locks(?) ?
Bear bag hang system N/A 0.0
1 Liter Platy "bottle" 0.78 x 2 = 1.56-p
Water treatment - Mirropur MP1-Tablets (15) 0.41-p
Esbit Tablets 1 each (.5oz) 0.5-p
Total weight in pack 3.32 oz
4 - MISCELLANEOUS ITEMS: As of - 13 Oct 2006
Flashlight/headlamp 1 white photon with small Swiss Army Knife 1.07p
Trekking poles (1) Home-Made Trekking Pole 3.2-w
Headnet (if necessary add 0.33 oz) 0.0
Bug dope Out of Bug Season 0.0
Blistex Ultra 1.0-p
Toothbrush toothbrush 0.2-p
Toothpaste (use Dr. Bronner's) 0.0
Alcohol hand gel Dr. Bronner's soap 0.2-p
Toilet paper 8 squares per day 0.5-p
Potty trowel Home-Made Ti 0.31-p
Blister & minor wound care 1.06-p
Chem Heat Pack 2/1.38-p
Whistle 0.1-p
Firestarting kit 0.2-p
Repair (included in with first aid) 0.0
Watch - Timex Alarm 2.5-w
Compass (on watch) 0.0
Maps and permits 1.0-p
Camera (?) ?
Journal kit (?) ?
Total in pack - 6.22 oz
Total worn - 6.7 oz
Sub Total (1+2+3+4)
Total in pack - 28.65 oz
Total worn - 61.92 oz
5 - CONSUMABLES: As of - 13 Oct 2006
Food 2.5 days at 1.25 lbs 60.00 /3.75 - lb
Water 2 L average carried 64.0 / 4-lb
Fuel 0 - No Hot Meals - Liquid Diet 0.0
Medicine
Total - 7.75 - lb
6 - TOTAL: As of 13 Oct 2006
Total in Pack - 28.65 oz
(Weight available for (?) items "in pack" = 3.35 oz) (Sub 2-lb = less than 32 oz)
Wear / Carry - 61.92 oz
Consume - 124.00 oz
----------------
214.57 oz / 13 pounds - 6.57 oz
Total Hike Weight (Naked Weight) = 149 lb
Total Hike Weight (On my body Weight) = 13 lb / 6.57 oz
Total Weight on my feet - Start Day 1 = 162 lb / 5.70 oz
What was in the Sub 2 - lb Pack:
My Cuben Pack modified with a Sternum Strap: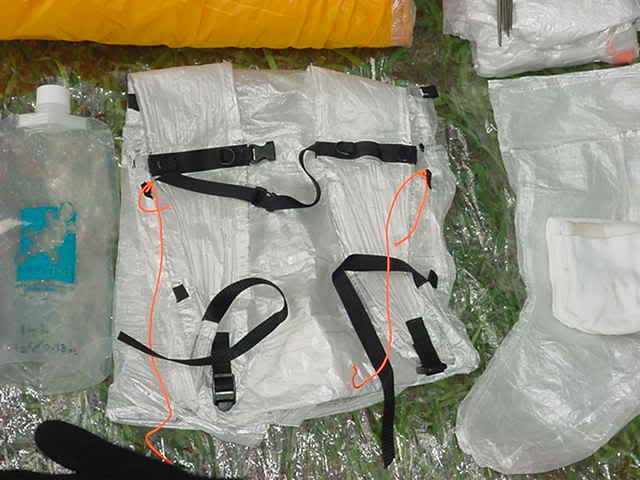 My Insulated Toe Cozy's. These were made in GA after a cold toe night on the first hike. I had taken a scrap "cut-off" piece of my Bivy Liner to use as a neck wrap. I cut it in half - hand sewed the sides and added a cord to each so I could tie it around my ankle to keep my toes warm at night. They were really easy to make and worked great.
My toes had gotten cold on the 42 degree night when I slid off my sleeping pad just enough for my feet to be on the cold ground. My cold feet woke me up and I put my Cuben booties on with my second pair of socks over them. I fixed my pad and went back to sleep. The toe cozy's weigh 0.67 oz.
===
Top row Left to Right:
Pertex Quantum / Cuben Bivy with the Climashield Combat Liner attached.
Cuben Poncho/Tarp with 6 Ti tent stakes and guylines made from 1/16" Yale Cordage "Pulse" line.
Next row: Left to Right:
Black Kilt/Shell for Balloon Bed and bag of Balloons.
Shop Towels cut for TP with my Ti Trowel and BMW small bottle of Dr Bronner's soap (brown cap).
Under Shop Towels are my Micropur MP 1 Purifier Tablets.
Platy 1 Liter water bottles (2).
Cuben Pack modified with sternum straps.
Cuben Booties with spare pair of socks laying on top. Socks were used for padding in my shoulder straps.
Next row Left to Right:
12 oz Diet Coke can used to mix and drink my liquid Dry form of Ensure and my home made Ti long handle spoon. The spoon handle is pointing to my Food Bag.
Zip lock with my Blister/Wound care stuff, Blistex and Tooth brush.
Zip lock next to my gloves has my Matches, Esbit tablet, Firestarting kit, Chemical heat packs.
BMW Possumdown gloves.
Wool Watch cap.
GG Pack liner.
Climashield Combat Toe Cozy's.
1- Everything is laying on my GG Polycryo Ground Cloth.
2- Counted as in my pack but attached to a belt loop on my pants is my Photon LED and small Swiss Army Knife. The knife got left off my gear list and weighs 0.72 oz. I have added it to the gear list as in the pack.
3- The whistle is hiding on the pack and didn't show up in the picture.
==
Springer Mt - GA - AT. Oct 2006 The temperature was 35 degrees that morning.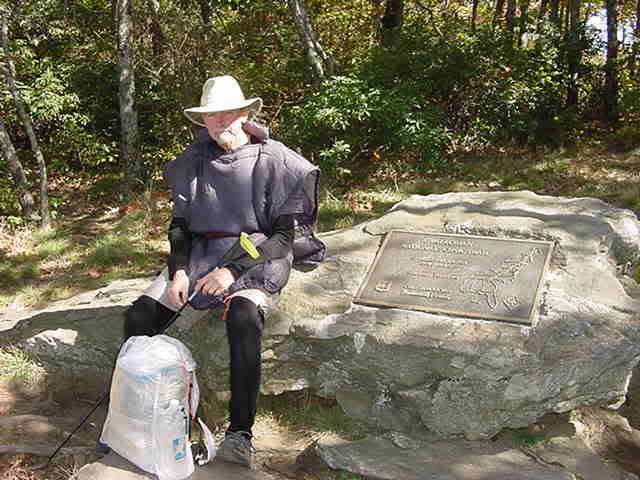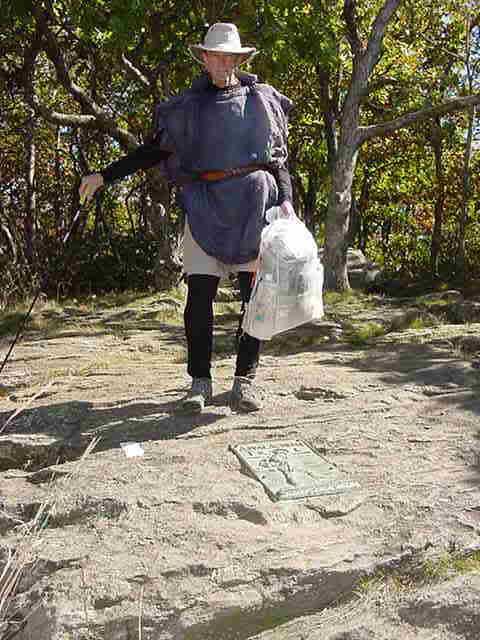 Along the Duncan Ridge Trail, GA - Oct 2006
Balloon Bed at Woods Hole Shelter - GA AT. Oct 2006