Poly-Tube Down Air Mattress - DAM - Part 25 to 36
Part 25 -
Q 1-That sounds like it would work. Not very pretty. I think I'd get some 1/8th shock cord to use as rubber bands.
Q 2- Can your plastic guy weld the fabric so that the last several inches are welded all the way across except a small channel running down the middle or on one edge?
Q 3- If you could do that ... or glue it like that in the fused part of the plastic you could perhaps attach some button snaps so it rolls up and snaps together..maybe velcro.
Q 4- Well i guess welding it would prevent you from sticking your down tubes in it though.
Q 5- For your fabric that you use.. For those that would use this on the ground puncture resitance is a concern. I wonder if full spectra or kevlar would work for that... at least on one side.
A 1- I have long hair (pony tail length) and use a black elastic band to hold it. I tried two of a very small elastic band with the popsicle sticks when I could not find a regular rubber band. I will add a picture to this post later. It worked OK.
A 2- The guy that I get the Poly Tubes from did just as you are asking with the first Tubes I got from him. He left a small openning on one side.
A 3- If I was going to try some type of attachment I think I would need to go to a heavier Mil Poly Tube. I think it would be more trouble and added weight than it would be worth.
A 4- Yes, but there is nothing to say you couldn't have a summer mattress and a Down Mattress. The fabric used to containe the tubes could be used for both.
A 5- You know I use a hammock when ever I can. If I had to sleep on the ground or say in a Shelter for some reason I would have something to use as a ground cloth. I don't think you can buy "full" spectra at this time and I think it would cost to much. I don't know about kevlar. I know that duct tape will seal a hole in the poly tubing. I would always carry one or two extra Poly Tubes. They weigh next to nothing. Maybe I could use the extra Poly Tubes as a pillow.
For me the whole attraction to the Poly Tube Air Mattress idea is to have a "Full Size- Comfortable" thing to sleep on that weighs almost nothing.
Part 26 -
Q 1-That sounds like it would work. Not very pretty. I think I'd get some 1/8th shock cord to use as rubber bands.
A 1- I have long hair (pony tail length) and use a black elastic band to hold it. I tried two of a very small elastic band with the popsicle sticks when I could not find a regular rubber band. I will add a picture to this post later. It worked OK.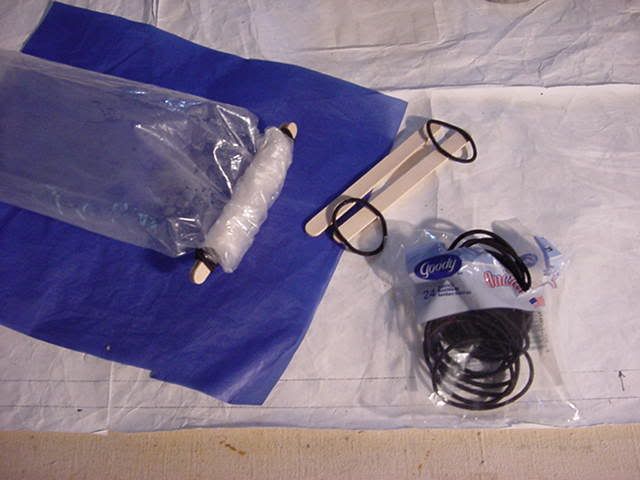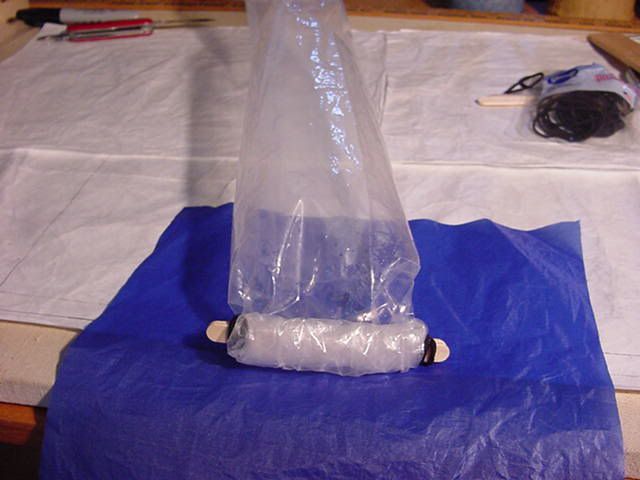 Part 27 -
Using 5 Poly Tubes for an Air Mattress and popsicle sticks as a clamp you would need 10 popsicle sticks and 10 small elastic bands. These would weigh about .7 of an ounce. I think this is light enough to carry. Unless you were trying to set some kind of low weight record. Before I would "forage" for sticks everyday I would just tie a knot.
Part 28 -
I was thinking that you could use bag clips like the ones here:


You could roll one part inside the plastic, just like you do with your popsicle stick and then just close it. I've used them for chip bags and they seem pretty strong. I'm not sure how much they weigh, but they're pretty light.

- Matthew Takeda


Thanks for the information. I have seen these offered several different places. Most are sold in a set of different sizes like WDrake does. Buying them in sets would not work as I only need the large size. I have found a Graphic's business that prints on these and you can buy what ever size you want. That would be great if I was in the Backpacking Gear Business but I am not. I am going to call the Graphics place on Monday for more details and see if I can buy a few to test with. I expect these clips would weigh more than the popsicle stick clip but should be eaiser to use. I would need the large size and they are about $1.00 each. The popsicle sticks are light and very cheap. Free, if you eat the popsicle and save the sticks.

Maybe I need to turn my gear making hobby into a business?



Part 29 -
Here is what the clips look like from the W Drake web site.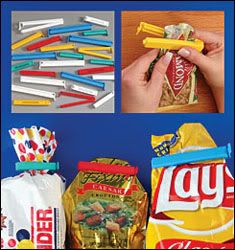 Part 30 -
I was thinking that you could use bag clips like the ones here:


Matthew Takeda
--------------------------------------------000000---------------------------------------------------
This is a follow up to the message from Matthew:

I was able to find a local source for this clip. I am able to buy them in a pack of 2 clips in the 4-1/4" ($1.29) and 5-1/4" ($1.59). I tried both sizes and the 4-1/4" size seems to work best. They don't weigh much, one is a little under 9 grams. The Popsicle stick clip weighs just under 3 grams. I am testing the clip to see if it hurts the poly tube over time.


Part 31 -
This is a reply to a question from the "Inflated Tent" thread. There are a number of ways to inflate things.

The NEMO tent is a very interesting product and at some point in time I am going to try and bag, barrow or buy a few of the "replacement" tubes they use and play with them in an Air Mattress project. I am not concerned about the weight of their tents. I like the TACO. My pack weigh is so low that if I added the TACO at 5 pounds plus to my pack weigh, less food, water and that kind of stuff, I will still be under 12 pounds or so for mild weather hiking. The tubes in the NEMO products seem to use a more or less conventional pump system to inflate them. When I tried the Poly Tubes for a tent support I think the thin wall of the Poly Material and the lack of a check valve keep me from being able to get enough pressure in them and they would not support the tent. I have found a smaller tubing and I might try again using both the larger and smaller tubes. I also didn't follow-up on the Poly Tube idea since I went to very light weight Carbon Fiber tent poles. The poles can be used for at least 2 other things while hiking so the weight really becomes nothing.

The Stephenson's Down Air Mattress (DAM) inflates using the stuff sack provided. The sack weighs 2.7oz. and is 17" by 27". The following pictures shows how the stuff sack is attached to the Down Air Mattress. There is a "check" valve in the Air Mattress. This is also used to de-flate the Air Mattress. You gather air into the stuff sack fold the ends and push the two ends together forcing the air into the Air Mattress. It takes from 10 to 13 bags of air and less than 10 minutes if you do it right.

When I got the DAM and had a chance to test it I was sold. The only thing I wished for was that it was lighter. This is when I started thinking about how to make one.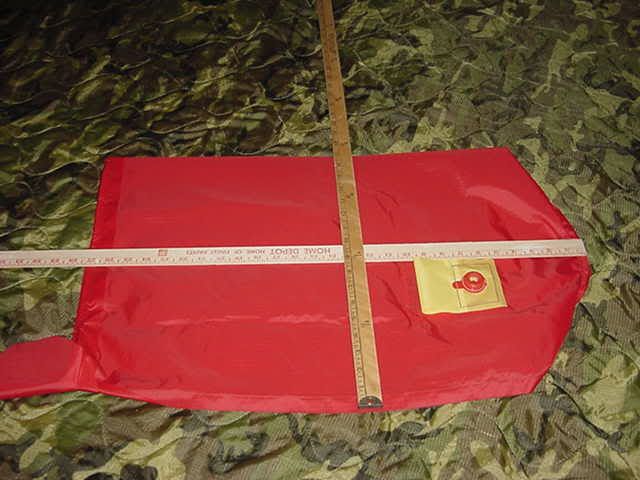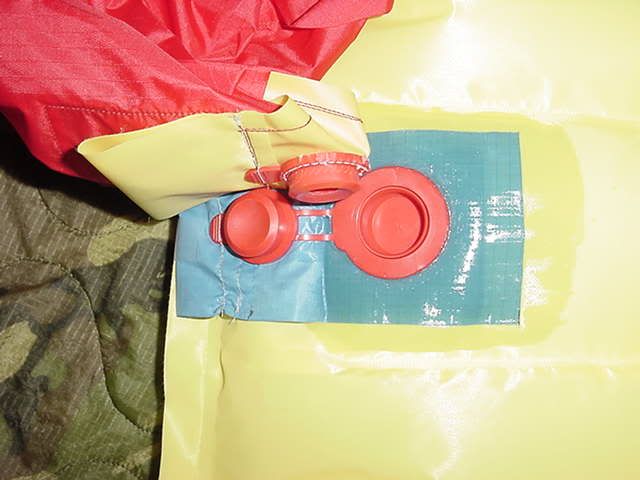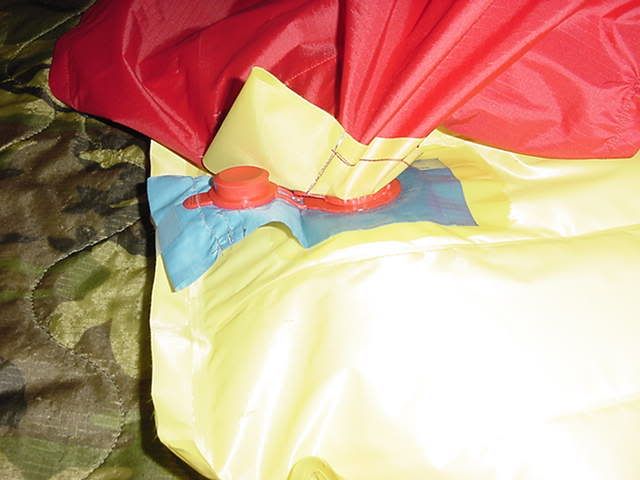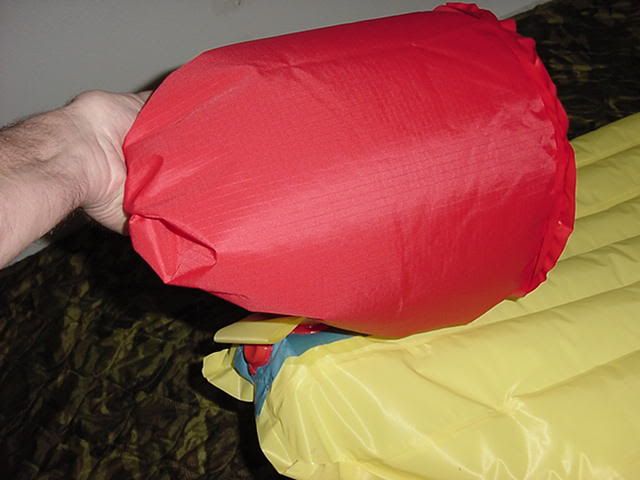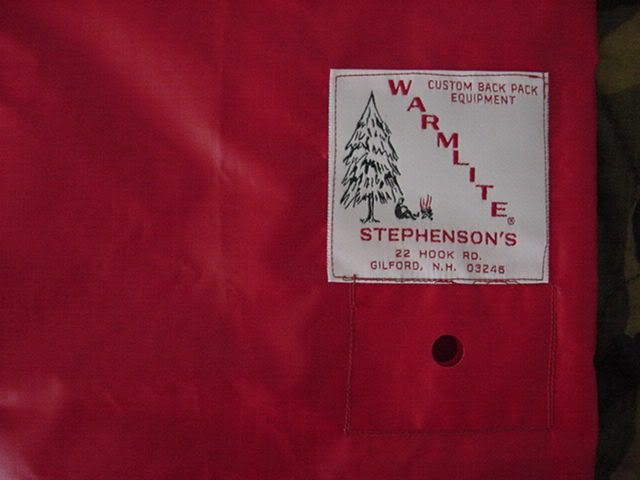 For all the different ways an inflation method can be made I still like the simple clip method I am now using. They weigh about nothing, are about as simple as something can get and the company says they have been tested to open and close over 100,000 times. That should be enough for about 500 AT Thru-Hikes.


Part 32 -
Question:
I played with the impulse sealer today. The only plastic i had handy was ziplocks. Because of the way it works I can't do anything longer then 12 inches so making tubes is out of the question. I did however see 1000' + rolls of 2 mil 3" poly tubes from between 15-25$ online today. Isn't very hard to find if you just seach for something like "poly tubes mil"

Way more tubing then I'd ever need but I could do plety of exerimenting and since i have access to the impulse sealer the price pretty cheap.

It looks like in materials a silk hyper light might run as little as $35 or so.

Answer:
I have seen the poly tubing at several web sites. You should be able to find someone in your area that uses it to make their own packages and see if they would sell you a small amount.

The cost for the smaller roll isn't bad. I still don't know what I would do with all the left-over. I think you are right about the $35 or so price. The Poly Tube Air Mattress sure worked nice in my Hammock. One made out of very light silk would sure be light.


Part 33 -
Question:
I'm not sure how to post pictures, so I put a photo of the Basic Designs Airlift II on a web site I have at:
http://users.sisna.com/maddox/airlift.html

The plug vavles are hard to work with in cold weather. They are the same as on the water wing and other pool toys.

Answer:
I have been cleaning my Gear closet and found the paper work that came with a "basic designs" Super H2O Sun Shower I bought about 10 years ago. They give you a catalog of sorts with the instructions. The catalog has the Air Lift II listed. They sold a full length (72" x 22" - 31oz) and a 3/4 length (48" x 22" - 21oz.) and lots of other sleeping pads. I also discovered that my old "heavy as sin" cold weather sleeping pad was also a "basic design" EGROMAT model #3013 and it weighs 3 pounds and 4 ounces (52oz). I carried it [once] on a winter hike through the Smoky Mtn NP. Since we had to sleep in a shelter each night I didn't have to also carry a tent. It was great on the shelter platforms. I still use it for Car camping.

With my Poly Tube Air Mattress I can now get the same comfort for 6oz. to 8oz.


Part 34 -
Question -1
Do the tubes or balloons not pop because the fabric is holding them at a set size or simply because you are laying on so many at once?

Question - 2
If its the latter then couldn't you dispose of the baffles for two or three spaced out bands of fabric that hold them together?



Answer 1
I have sat on the Poly Tubes one at a time in a sort of coil like seat cushion and it did not pop. I just blew up a balloon and I am now sitting on it also like you might a seat cushion. It has not popped. The fabric [controls] the tubes and more tubes would carry more weight. The fabric gives you a place to quickly put the tubes as you blow them up. That much control is worth the little extra weight of the fabric to me.

Answer 2
I think what you are suggesting would work. Two or three spaced out bands of fabric or something might take a little more time. The bands of fabric might let the tubes move and you might fall through, slide between or something like that as you are sleeping on them. A band every 1 foot or so might keep that from happning.

Think about setting up in the rain and getting the bands wet and tangled etc, etc.?


Part 35 -
Question 1
What is the weight of silk compared to something like no see um mesh?

Answer 1
The silk mesh I use on my hammock for a bug net is .45oz per sq. yard. The silk I used on my Silk Bag Liner is .64oz per sq. yard. We are talking about so little weight it means almost nothing. The Fabric Sleeve (4.5 yards) can weigh from 2oz. to 2.8oz. This is for a fabric sleeve 36" x 78".


Part 36 -
Question 1
Does the down come out of the fill hole when you deflate?

Question 2
Could you put a fabric / mesh filter in the tube to slow it down??

Answer 1
The Down is in silk mesh baffles (panty hose leg looking things) that go into the poly tubing when you need the extra warmth. They can be removed to wash, dry or carry if it is warm and you can use the Air-Mattress without the Down in it.